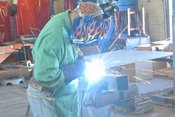 Welding student at work.
21st Century Training!
Welding Technology
The purpose of this program is to prepare student s for employment or advanced training in a variety of occupations in the welding industry.
This program focuses on broad transferable skills and stresses understanding and demonstration of the elements of the welding industry; planning, management, finance, technical and product. Skills, underlying principles of technology, labor issues, community issues and health, safety, and environment issues.
The program is certified and designated as an educational institution member of the American Welding Society. The length of this course is 1150 hours.
Adult students are required to score grade level 9 on the Test of Adult Basic Education (TABE) in order to receive a vocational certificate.
Medium hourly, earnings of welders, cutters and brazers were $14.02 in 2002. The middle earned between $11.41 and the lowest 10% earned over $21.79. The range of earnings of welders reflects the wide range of skill levels. Median hourly earnings in the industries employing the largest numbers of welders in 2002 were:
Motor vehicle parts manufacturing
$16.02
Agriculture, construction mining
$13.74
Agriculture and structural metals
$13.34
Motor vehicle body and trailer
$12.83
WELDING IS NOT JUST A SKILL!
---
---
---
---
---
---
Welder Assistant 2
(150 Hours)
_______________________________________________________________________________________________________________________________________________________________________________
________________________________________________________________________________________________________________________________________________________________________________
______________________________________________________________________________________________________________________________________________________________________________
---